World War 1 experiences of my grandfather, Gordon Wills
Written by:
John Wills
December 2005
Table of Contents
| Click below to skip to the Chapter | Description |
| --- | --- |
| | Background to this essay |
| | Early Years. Growing up in England. |
| | South West Africa Campaign: August 1914- April 1915 |
| | Training in England: May 1915- July 1916 |
| | Battle of the Somme: July 1916-November 1916 |
| | Wounded at the Battle of Bullecourt: May 1917 |
| | Gassed at 3rd Battle of Ypres: October 1917 |
| | Battles of the 22nd Machine Gun Company |
| | Letters of 1914/15 |
| | Letters of 1917 |
Gordon Wills was my Grandfather. I was fortunate to grow up living in the same city as my grandparents and I was very attached to them both. I was particularly close to my Grandfather and it has therefore been a very pleasant task to indulge myself in exploring what he did during the 1st world war.
I knew from a very early age that he had fought in the 1st World War. I remember a story he told me about having to eat a staple diet of pumpkin for months on end when he was in South West Africa. I thoroughly disliked pumpkin as a child so no surprise that I remembered that one. He also explained how best to sleep in the desert sand; flat on your back with your head facing the wind. Apparently that kept you warmer and less full of sand. Later, when I was in the army, he showed me some German bayonets that he had taken off dead German soldiers in South West Africa. He later presented them to a friend of mine whose father had fought on the German side in the 2nd World War.
In 2005, my second cousin, David Wills, while sorting through various letters and papers that Penty Wills had had in her files, discovered a number of letters that Gordon had written to his mother during the 1st World War. He very kindly gave these letters to me. These letters were sent from South West Africa and later from the Western Front. They make fascinating reading and give intimate insights into life on the front and also glimpses of his personal bravery and courage, always blended with a wry sense of humour. When I read them I realised that they would be of interest to many of the family. I have transcribed them word for word and they are attached in Appendices for all to enjoy.
I had also previously acquired from Penty Wills three tape recordings of Gordon's letters to his brother Jack Wills that were made in 1974/5. These letters were recorded because by that time Gordon was very blind. In these recorded letters he reminisced about his war time activities.
In writing this essay on my Grandfather's war time experiences, I have drawn heavily on the letters to fix the dates of events. Because of censorship, place names are never mentioned in the letters and so I have played detective in matching the dates with know battles and known movements of the division or company in which he was serving. In this regard, the War Diary of the 22nd Machine Gun Company, was an invaluable source. The diary is available at the Records Office at Kew. I have also made use of his recorded letters to collaborate place names and events and I have quoted extensively from these recordings as they provide some of the best insights into his army life.
Early Years
Alfred Gordon Wills was born on the 10th October, 1891 into an affluent middle class family. He was the youngest child of four; Jack, Edith, Lucy and Gordon. His father, Leonard Wills was a successful lawyer practicing in Birmingham. Gordon grew up at The Gables, the family home, in Barnt Green near Birmingham. He went to Lickey Hill school before moving on to Uppingham School which was, and still is, a school of excellent reputation. I looked it up on the internet and was surprised to learn that it was established in 1584! And incidentally today boasts one of the best "A levels" results in the UK. However, Gordon's own experiences at Uppingham could not have been that good saying that he "disliked it intensely." But he did enjoy rifle shooting at Uppingham and it was here that he was taught the elements of shooting.
Upon leaving school he went up to Cambridge, probably in about 1910, following in the footsteps of his older brother Jack and his sister Lucy. He told me that he studied Latin and Greek. I know he got half colours for shooting. He went down from Cambridge in about 1913 and on the advise of his Great Uncle, Alfred Wills the judge, he joined the firm of solicitors, Sharp and Pritchards at Carie Street in Birmingham. Gordon explained that old Judge Wills had advised him to go to a good solicitor and pay a premium if necessary to get practical experience and to learn the elements of the job before becoming a barrister. With disarming frankness Gordon recalled " I never regretted following that advise. After many years practice in Durban I am completely convinced that I should have been a rotten barrister, whereas I did fairly well as solicitor, in this country."
He could not have been at Sharp and Pritchards for very long because in June 1914 he and his sister Lucy, were on their way to South Africa on an extended holiday. They sailed from England to Cape Town on the Union Castle liner, Balmoral, arriving on June 16th. They both seemed to enjoy Cape Town. In addition to the usual site seeing activities they enjoyed an active social life visiting the theatre (there were just two of them in 1914) and being entertained by a large circle of seemingly well off, friends. They traveled by train to Durban at the end of July and it was while they were there that Great Britain declared war on Germany and the Great war began.
The South West African Campaign 1914-1915
When Gordon heard the news that war had been declared, he immediately cut short his holiday and went directly by train to Johannesburg. It seems that he was intent on joining the army as soon as possible and he moved forthwith to stay with friends in Pretoria where he thought there was "a better chance if anything is to be done by being up near the Capital."
Within weeks he had joined the South African army in Johannesburg. More specifically, he had joined a voluntary regiment, the Transvaal Scottish as a Lance Corporal, unpaid. After a few days of rigorous 7 hour a day training he declared himself "very fit and the colour of a Red Indian". He left Johannesburg on September 7th 1914 and traveled by rail to Cape Town where he joined the Central Force or Force "C" as it was referred at the time. Force C consisted of one six-gun battery, a squadron of Imperial Light Horse, the Transvaal Scottish, the Rand Light Infantry and a section of Engineers. This force sailed on the Galway Castle liner and landed unopposed at Luderitz Bay on September 19th 1914. The German forces, in the face of potential bombardment from the Royal Navy ships, had meanwhile withdrawn 130 km inland across the Namib desert to the small railway town of Aus.
The South African troops consolidated at Luderitz Bay before beginning a slow advance toward Aus. Progress was thwarted by the tough desert conditions and lack of water. Gordon did his share of guard duty, trench digging and marching as the Transvaal Scottish advanced slowly inland across the desert. The rate of progress of the advance was determined by the speed at which the railway line could be rebuilt to supply water to the front line troops. It took until the 8th of November for Force C to reach Tschaukaib just 32 km inland where they quickly overcame the German defenses and captured the vital railway overhead water tanker.
Gordon makes reference to the difficulty of progressing in the desert because of the heat and the sand. Everything was covered with sand. Moving troops and equipment across the desert must have been laboriously slow relying on mules and camels to carry the equipment whilst soldiers trudged through the soft sand carry their rifles and packs. Even when in the trenches they were handicapped by the sand and dust as Gordon described:
My half section were taking a patrol in the front line where there was a continuous trench which was very heavy going because it was all sand and dust from the sandstorms. I suggested that we might get out of the trench and walk over the top. My half section replied, with a strong American accent: "Well the Almighty put all the holes in my hide that ever needed to be there and I am not giving any bloomin' Germans a chance to put in another one!" I appreciated the advise and for the future I kept very much under shelter when I could.
The next town to fall to the South Africans was Garub, which was finally occupied on 22nd February 1915. Gordon must have been among the first troops into Garub, because he wrote to his mother from Garub on 26th February explaining how he is very busy "having all the fatigues that a new camp entails." He goes on to explain that the shortages of water meant that he had his "first wash for a week this morning and then it was a lick and a promise in a billy can"! It was also at this time that he transferred to the Maxim Machine Gun section. He describes this as a "pleasant change as the men are mostly a cut about the average of the regiment." In a recorded letter to Jack Wills he reveals perhaps the real motivation for switching to the Maxim section:
I had taken up machine gunning, chiefly to get a pair of trousers. For some reason, unknown to me, Kilts were considered unsuitable for machine gunners and as I detested kilts under any circumstances, I applied for the vacancy in the machine gun core and got it.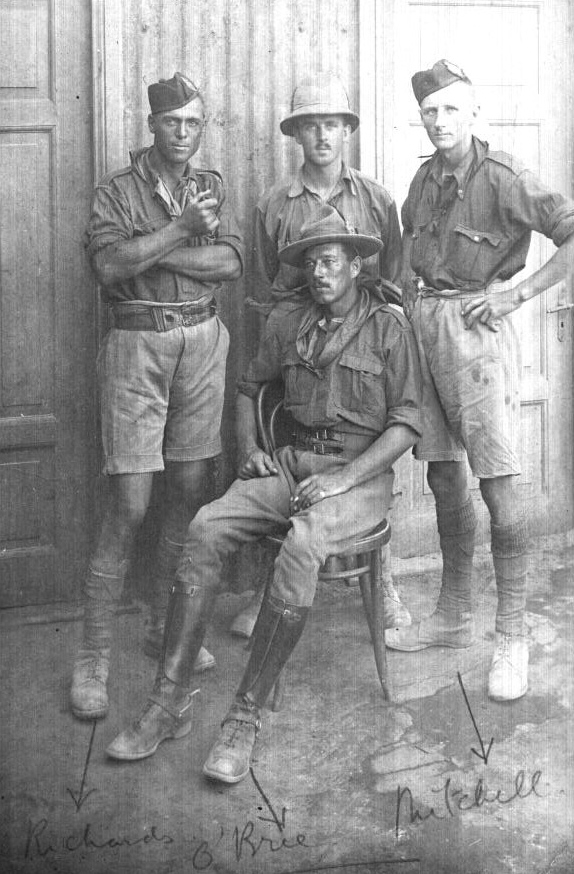 Fig 1: Gordon (centre back) with fellow machine gunners in March 1915
He did have one 4 day day pass to Luderitz Bay on 9th March where he enjoyed swimming and washing before returning to the desert. He recalls just how cold the water was at Luderitz Bay, when after 2 or 3 months in the desert without a wash, he eagerly jumped off the end of the pier for a swim and was stunned by the shock of the cold water. So much so that he "had the utmost difficulty in getting back to the shore about 200 yard away, it was so bitterly cold." After Gordon's 4 day pass, he returned to Garub where the troops were waiting for the Engineers to complete the necessary wells to provide sufficient water for the troops and newly arriving horses before resuming their advance on Aus. When they finally did advance at the end of March, they were able to take Aus without a fight. The Germans had withdrawn a few days earlier to move further north to defend against a possible attack by the Northern Force advancing from Walvis Bay under General Louis Botha, the then Prime Minister of the Union of South Africa.
Gordon described the march on Aus and recounted how the wells had all been poisoned by the retreating Germans. The Machine Gun Company used mules to carry their equipment. With no water for the mules there was a fear that they might perish and so Gordon was ordered to return to Garub so that the mules could be watered. His recounting of the watering of the mules is in itself an interesting and humorous story. He seemed to have had a lot of affection for his mule, describing it as:
..the nicest mule you can ever imagine. He ( the mule) used to stand absolutely still in the heat and to get what shade there was I used to lie down and have my head underneath his tummy where he at least gave some shade from the mid day sun.
It is rather clear from Gordon's letters that he had become increasingly disillusioned with the South African Army, describing the men as "an appalling armed rabble" and goes on to tell his mother that he wants to "come home and get a Commission in a real regiment." Presumably his mother was able to arrange for her sons return because a few weeks later Gordon received orders to return to England. As Gordon explained;
I was summoned to the orderly room and received a ticking off for not telling them I was supposed to be with the Territorials. Apparently Mother and ol' Colonel Heycock had pulled strings between them. I was put on the next ship down to Cape Town in disgrace and from there was put on the first ship available back to England.
By the time Gordon left South West Africa in April 1915, the Germans were in full retreat. As the South African forces moved northward, the Germans retreated in front of them, abandoning the key railway centre of Windhoek to avoid being caught between the Northern force advancing from Walvis Bay and the Southern Force advancing from Aus. Although the Germans were now essentially trapped the difficulty of supplying the South African troops in the desert terrain delayed the final assault until 20th June 1915. The South Africans inflicted a defeat on the Germans at Otavi and the Germans finally accepted unconditional surrender on 9th July 1915.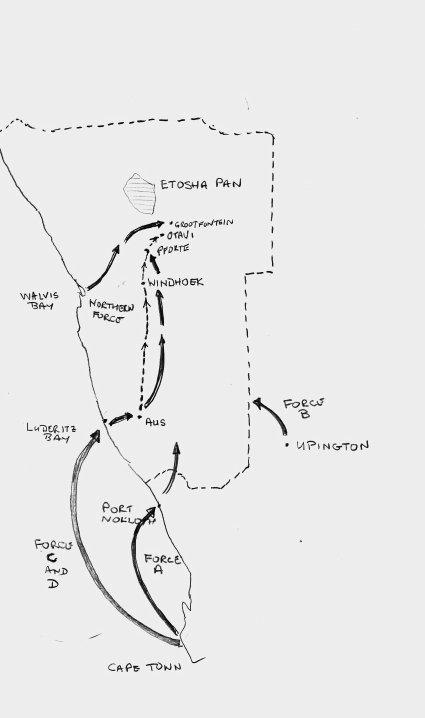 Fig 2: South African campaign in German South West Africa. 1914-1915
_____________South African troop movements
------------------- German troop movements
The South West African campaign was important because it was the first major Allied success of the 1st World War and it was carried out by a Dominion force with very little Imperial support. It also had a unifying effect on the newly formed Union as former adversaries of the Anglo Boer war fought side by side. It is perhaps sad that with the coming to power of the National Party / Labour party alliance in 1924, the campaign was largely forgotten as the National Party had opposed South Africa's involvement on the side of the British. In fact, this important South African military success is totally ignored in the history books that were sanctioned by subsequent Nationalist Governments.
The best account that I found on the South African Campaign in German South West Africa was published by The South African Military History Society.
Back in England 1915-1916
Gordon arrived back in England in May 1915, probably still with Namib desert sand in his boots, so quick was his repatriation. After a short vacation of 10 days, which he spent trout fishing with his brother Jack, he joined the Cambridgeshire Regiment at Rayleigh in Essex where he began his officer training. It is perhaps not surprising that his senior officer was Colonel Charles Heycock, (father of his brother-in-law Maurice Heycock), who had orchestrated his recall from South West Africa.
The town of Rayleigh is north east of London,on the direct line that the Zeppelins followed on their bombing raids to London. One night, when Gordon was the Officer of the Day (Officer in charge of the guard duty), a Zeppelin was sighted just a few hundred feet above the town of Rayleigh. Gordon decided that the Zeppelin did not pose a serious threat to the garrison. Besides, he reasoned, the training troops at Rayleigh had Japanese rifles and no bullets and could therefore make no impression on the low flying Zeppelin. Therefore, he left the garrison sleeping peacefully as the Zeppelin headed on its way toward London.
The following day he was summonsed to the Orderly Room and asked why he had not turned the whole battalion out into the field as was standard practice. Gordon explained the interview that followed:
I was thoroughly ticked off by ol' Heycock. When he had finished telling me what a rotten officer I was and all the rest of it he invited me to go along to the mess where he stood me a Bristol milk sherry before lunch. Very nice too. He then proceeded to say "I had to tick you off Wills, but between you and me, I was very glad I wasn't pulled out of my bed!" Which I thought was very human of him.
In November 1915 the 1st Battalion of the Cambridgeshire Regiment was being formed at Newmarket, in Suffolk, the Regimental Headquarters. The Regiment was one of the many Regiments of the Territory Army being formed in England under the leadership of Lord Kitchener. Gordon joined the 1st Battalion and moved to Newmarket sometime toward the end of 1915.
In December 1915, Gordon got engaged to Murial (Marty) Evans. They were married on March 2nd, 1916 (location unknown) Within a few weeks he was transferred to Grantham where the Machine Gun Company was just being formed as a separate entity. He underwent intensive training on Machine Guns at Grantham. But he did have some time off to get away with his young bride. Perhaps not surprisingly on at least one of these getaways he was able to get in some trout fishing on the River Witham upstream of Grantham. He befriended a country gentleman who kindly gave him permission to fish his section of the river whenever Gorden chose.
Battle of the Somme: 1916
'Saul has slain his thousands; But David his tens of thousands'
Inscription on the Hyde Park memorial to the MGC
As the war ground on into 1916, more and more Territorial troops were sent across the Channel and in due course Lieutenant A.G. Wills was sent out to the Front. He arrived at the British Army base at the French port of Etaples, at the end of August, 1916 and was posted to the 22nd Machine Gun Company. He was bluntly told that they had just been wiped out for the third time since the beginning of the Battle of the Somme on July 1st 1916 and that, at that time on the Front, a Machine Gunner lasted 7 days before being killed or seriously wounded. The machine gun companies acquired the nickname of the "Suicide Club" because of their high casualty rates brought about because they were the prime target for enemy artillery.
He joined the 22nd Machine Gun Company at their billets near Woirel on 11th September. Gordon was a Section Leader responsible for several machine guns. Ten days later the Company went up to the front line at a place called Ploegsteert Wood. It was a relatively peaceful part of the line and Gordon decided to put his rifle skills to good use as he recalled:
At the time Ploegsteert Wood was full of pheasant and partridges on the outskirts of the wood. So one morning I borrowed my Orderly's rifle and went out to see if I could bag anything. I succeeded in bagging a nice cock pheasant very neatly; just about cut its head off with a bullet and didn't spoil the body of the bird. It was very good eating and we had him the very next night. The next morning I thought I would try for a partridge, but a German sniper had the same idea of bagging something and a bullet passed so close to my head that it whispered rather than cracking. I went into the nearest ditch, the rifle went another way. I crawled away, retrieved the rifle and gave up partridge hunting. I thought if the other fellow was out shooting for me, I was better off back in my own trench.
By 1916, the British Army had developed a protocol of trench duty in recognition that 48 hours on the front line was about as much as the men could take. Therefore a rotation was established that followed roughly a 10 day cycle as follows: 2 days in the forward trenches, 2 days in the support trenches not far behind and 2 days in the reserve trenches further back and then 4 to 6 days in "billets". By observing the dates on the letters which Gordon wrote to his mother, it is clear that he usually wrote from the billets when he was physically away from the Line.
The 22nd MGC diary records that the company remained at Ploegsteert for 6 weeks until they were relieved on November 3rd 1916. During this time the records show that Gordon's Section fired a total of 52,000 rounds of ammunition! Gordon also experienced his first chlorine/ phosgene gas attack. They marched over a period of days to the River Ancre where they were billeted at Bertrancourt, just north of the river and a few miles south east of Beaumont Hamel. On 29th November the Company relieved the 91st MGC who were holding the line at Beaumont Hamel. It was while he was on the line at Beaumont Hamel that Gordon was lucky to escape with his life.
On one occasion at Beaumont Hamel I was pouring rum for one of my men as we were going out on a so called recce. I was standing at the top of a stair into a deep German dugout where we had taken up our quarters. You can imagine I was not far away from this man as I poured out of a demi john into the mug he was holding. There was a fairly heavy bombardment going on at the time and a shell came down the road where my men were coming down and on which the dug out was, when to my amazement a shell passed between me and the man. The air from the shell going past drove us apart; me about 12 steps down into the dugout, the man who was holding the rum onto his back. The shell did not burst but hit the bank of the road within 4 feet of where I was standing without going off. On another occasion on the same road a shell came so close over my head that it blew my tin hat off without hurting me .
The town of Beaumont Hamel featured prominently in the Battle of the Somme and it was finally captured by the British on November 15th, 1916. Soon thereafter he was moved up to a position just south of Serre to "plug a hole in the line" as he described. They remained in the Line south of Serre for a month until they were relieved after Christmas. Gordon remembered Christmas Day because of an unpleasant experience which he had there:
I slipped off the back boards which were supposed to help you to move about easily. I went into the mud which was waste deep. It took the troops about 2 hours to dig me out. It was damn chilly.
Immediately after Christmas the Company was taken out of the line and coincidently the weather turned bitterly cold. He recounted the break from the front line:
We were billeted in a French farmhouse with stone floors. We had 5 small stoves to warm the quarters, of which one was for the officers and 4 for the troops. It was infernally cold and there was no alternative means of getting warm except exercising, but one can't exercise and sleep at the same time. So we all sat around the one stove set aside for the officers. Often we invited a Sgt or two or other NCO's to sit with us. That frost lasted 28 days. It ended with snow and sleet and just to celebrate the occasion, we were ordered back to the front line to relieve one of the battalions that had reinforced us when we had come out. The line had broken under German counter attach. We had to go back and restore the line. There is nothing worse than melting mud, which of course happened as soon as it started to rain. After that incident and the break in the weather we had a quiet time for a few weeks. There were occasional scraps but nothing serious. I think both we and the Germans were fed up with the weather and the long cold winter.
The Company returned to the front line at Serre at the end of January 1917. The attack on Serre was launched on February 17th and lasted until it fell into British hands on February 28th. Gordon had been slated to take over the machine gun company for the attack, but on the day that they were instructed to move to take over the machine gun position, he contracted German Measles and was sent back to the field hospital where he spent 3 days. He always had an affinity for German Measles after that because as he said:
Serre had been assaulted 5 times unsuccessfully with heavy casualties on our side. I had no desire to take part in such an attack in view of past failures.
He was sent back to the line after the fall of Serre probably in the last week of February but unfortunately his overcoat was stolen while at the hospital. From his accounts, he spent only 3 days on the front line before being relieved again, which was just as well because the weather was still bitterly cold and wet and they could not light fires being too close to the German line. From his letter to his mother (dated 7-4-17) we know that a new coat was mailed to him and arrived sometime in March. It was also around this time that he was able to visit the remains of Serre with his Commanding Officer.
My CO and I were having a look at the guns around our position when the CO said to me that on the maps of Serre it was marked as having a big church. He said that he had been in front of Serre for 3 winters and had never been able to see where the church actually was. As we walked along the CO tripped and fell full length. When he looked to see what had tripped him he saw it was the church bell which gives you some idea of the destruction that took place. The village of Serre. is no longer there.
On about the 12th of April he got his long awaited leave and returned to England. There is no record of where he went but it must have been a very emotional time being back home and seeing his 1 or 2 month old daughter, Edith, for the first time. His one week leave must have gone by much to quickly for him.
Wounded at the Battle of Bullecourt May 1917
He arrived back in France after his short home leave and proceeded immediately to the front to join his company that was positioned south of the town of Arras. The Battle of Arras had begun on April 8th with the attack by the Canadians on Vimy Ridge, just to the north of Arras. This attack was successful and the Hindenburg Line was breached. Subsequent attacks by the British 3rd army on either side of Arras resulted in some minor gains, albeit at enormous losses. We know that Gordon was in the line when the final British advance on Arras took place because he had a front row view. He was positioned on a hill a few hundred yards away, with a perfect view of the German and British Lines and watched the British troops go over the top and advance across no man's land.
One place where the Hindenburg Line was not breached was at Bullecourt, which was very strongly defended. Gordon was involved in the attack on Bullecourt which took place on May 3rd, 4th and 5th. It was during this battle that Gordon was injured by a shell fragment. He described the action:
There was a terrific concentration of artillery on both sides of the line. We had something like 100 batteries firing on a ¾ mile front. The Germans must have had about the same. Anyhow, the bombardment was so intense that you could see to read a map by the light of the bursting shells. I know that because I did it and by the same light I discovered that we were within 100 yards of the machine guns in the Hindenburg Line. I may say that I did not stay as close. I don't like machine guns at the best of times unless I happen to be using one and the Hindenburg Line was singularly well provided with them.
I remember the incident very plainly. I and one of my gun teams were sheltering in an old German gun emplacement, Probably a foolish place to shelter as they had the range exactly and knocked hell out of us as a result. I did not know anything about the shell that knocked me out but in addition to wounding me it killed the whole of my gun crew. I had been on the go, marching and fighting for about 24 hours so I had dozed off in spite of the bombardment. In the afternoon my Orderly came and woke me up with a cup of tea and a slice of bread and jam. After the shell burst I came too and I said to no one in particular "Some swine has spoilt my tea!" because the jam was covered with dust and earth. I went to the nearest CCS and the doctor there lifted my shirt, as, like all good soldiers, I was hit in the back and pulled a bit of shell about one and a half inches long out of the muscles of my shoulder, painted it with iodine, stuck a piece of plaster on it and sent me back to my unit. I was sent down to the nearest Field hospital and turned loose. I remember the chief effect that it had on me was that I could not stop talking until one of the doctors gave me a drink, followed by a second one, which must have had some knock out dope in it because I went to sleep and did not stir until 12 o'clock the following day.
The exploding shell killed everyone in the dugout except Gordon. He was particularly upset by the death o f his Batman, whom he described to his mother as "a splendid man and very sad about it" Clearly the death of his batman played heavily on Gordon's conscience. In a letter written almost 4 months later he tells his mother that "I shall never find the equal of the one that was killed" We do not know the name of his Batman, but we do know from his letters that he came from Wylde Green and was married with two children.
Although Gordon described his injury to his mother as "a couple of scratches" claiming that he had been worse knocked about by a game of football, the army clearly thought differently as he was convalesced for quite some weeks before eventually rejoining his Company on June 5th, 1917.They were billeted behind the lines near Arras, in the same area of the line that they had been in the winter. He wrote:
Yesterday, as M will probably tell you, we spent on the scene of our former activities ( my emphasis) seeing the battle field under a Staff General. It was very interesting especially as he gave us reasons for all the operations. We also saw of course a great deal more as we could stand up on the high points which was not a healthy form of amusement in the old days. The destruction is amazing but it is all being rapidly hidden in coarse grass and mustard. Occasionally one runs across a few bones or something of that sort but almost all is hidden. The shell holes are still there and the going is still heavy so you can guess what it was like in the winter. We had the additional advantage of seeing from the Bosche point of view. The marvelous thing is, not that there was such heavy fighting but that we ever did get through at all in the face of the positions they held. However, go they had to and it looks to me rather as if they were going a long way further before very long. We have given him a nasty shot in the eye the last few days, nest ce pas?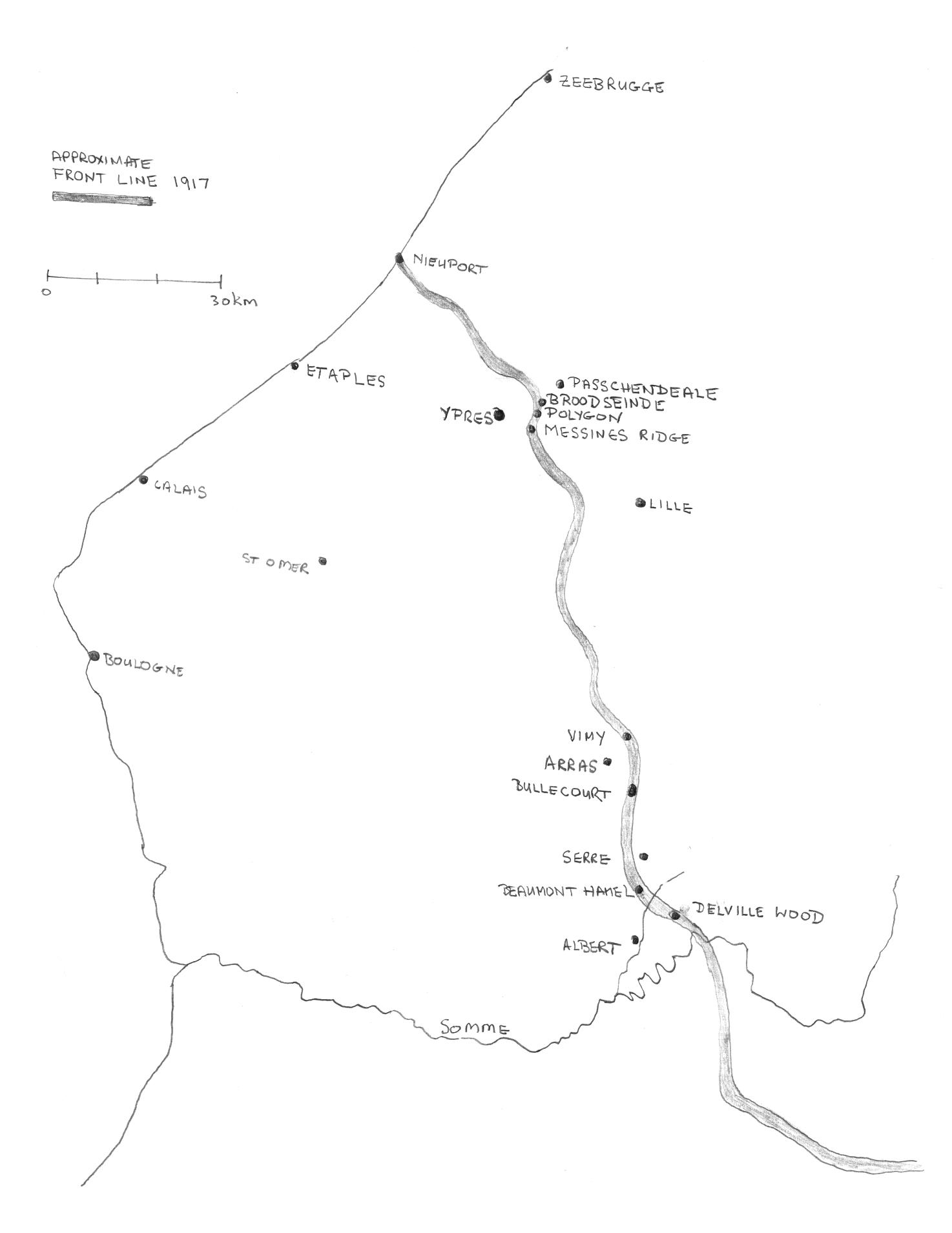 Fig 3: Map of Western Front: mid 1917 approx.
Gassed at the Third Battle of Ypres; October 1917
While Gordon had been convalescing behind the lines, General Haig was preparing his battle plan for the British breakout from the Ypres Salient with the objective of kicking out the Germans and their submarines, from the Belgian coast all the way up to Holland and then to move eastward across Belgium to the Rhine. A prerequisite for the breakout was the capture of the high ground at Messines Ridge, overlooking the Salient. In early June, Messines Ridge was captured following a spectacular underground mine explosion.
When Gordon rejoined his company on the front line at the end of June, preparations for the massive breakout of the Ypres Salient were well in hand. This battle would ultimately become known as the Third Battle of Ypres, or more notoriously, Passchendale.
Conditions on the Ypres front were from all accounts appalling in the hot summer of 1917. Gordon refers to the front as "this abode of frightfulness" and goes on:
..the two things that worry me most are flies and smells, both of which are absolutely unprecedented. Remember the canal in Venice at low tide? It was violets compared to this trench in places.
On 8th July while billeted behind the lines, he writes an unusually long letter to his mother in which he pours his heart out. In sharp contrast to many of his earlier letters, the tone of this letter is more melancholy and introspective. I think this is a revealing letter and so I have extracted several poignant quotes:
Do yo remember young Arnold Taylor who was at the Lickey and Uppingham with me? He was in the M,G. Corps and was killed the other day. I had heard of him being an exceptionally good officer.
The number of my pals that have been killed is awful. Rex Hadley, Jack Ratcliff, Ian (?), Lupton, Taylor and a whole host of school and Varsity men whom you don't know. Lick (?) and Thastyn (?) are about the only two I know really well who are left of the old crowd.
I want to get back home to a quiet life. I only hope that when it is all over I shall never see or hear another shell, bomb, trench mortar or rifle again. I think I shall emigrate to the South Sea islands and live somewhere where there is no one with a fire arm for a few hundred miles.
I reckon I have done enough sweating in this war. 8 months in Africa, 10 full months out here. It is about time I had a job I reckon where I have a reasonable chance of seeing the end of the war and getting back to M and Edith.
You would think to hear me as if I were just on 40 instead of just 26. But this life does tell on a man, there is no doubt. 18 months ago I did not care a rap if I had a feather bed or a board. Now a damp board makes my back ache so that I can scarcely carry myself like a soldier on parade. I slept 2 nights ago on the boards with a blanket over me, a thing which would not have cost me half a minutes sleep not so long ago: in fact I should have been thankful for the blanket. As it is at present my shoulders are sore and the scratch on my back aches as if I had had a damn good hiding with a thick stick. I am going bald too, rapidly.
Two weeks later, on the 21st July, he tells his mother that he has a new job, that of temporary Transport Officer. In this job he looked after the horses which were, in fact, the primary mode of transport at the Front. He described the work as not very dangerous nor difficult and he enjoyed riding around on horseback. But he professed that he did not like being away from his men when they were up on the Front Line. Gordon must have had a very close relationship with his men. He shared his gift parcels of warm socks and sweets from home. When they were positioned on the front line he made a point of going forward to check up on his men in their forward position, night or day, regardless of whether there was a bombardment or not. His men appreciated this as Gordon recounted:
Outside it was black as pitch and raining like fun. Around midnight I called my Orderly and told him I was going out, and did, with him. It was all we could do to find the track where our own sentries were, however we managed it with my orderly. As we were going along the track up to the forward sentries, I heard a voice ahead, that of a Sgt of the Royal Welsh Fusiliers, saying to my sentry; "Why don't you come into the dugout? You won't have no officers coming round here on a night like this tonight." He replied "What do you know? You never know when my man is any hour of the day or night. I'm stopping at my post" I marked him for promotion to Lance Corporal immediately.
By 12th August Gordon is no longer a temporary Transport Officer and is back with his Company at their billets just behind the line. The Third Battle of Ypers, had been launched on July 31st, but after the initial breakthrough, the forward advance had soon bogged down in heavy rains. It wasn't until the 16th August that the rains let up sufficiently for the advance to continue. This next phase began with the battle of Langemart. We know that Gordon was involved in the front line during the advance but we have no record of his exact whereabouts. Writing to his mother on 30th August he indicates that he has been very active on the front for the prior two weeks. His mood was gloomy to match the weather:
The weather is absolutely poisonous with wind and rain both in enormous quantities. It broke the trees down and laid everything flat a couple of days ago!
I have been in this country just a year tomorrow. The war still goes on and the end looks still far away. The combination of weather and war is not calculated to make anyone too lively. But we still keep in as best we can. Anyhow, leave comes along soon and that is always something to be thankful for. I am looking forward to this one even more than the last- and that is saying quite a lot. The worst of it is that it is so short. As soon as one arrives, one goes again.
And just two days later on September 1st, he writes again, reflecting on the fact that he is still alive, but clearly worried about the future battles ahead of him. This is the last letter written from the Front that we have from Gordon to his mother.
As you know that I have been out here a year now. It seems a long time doesn't it and I have a great deal to be thankful for in getting off with 2 tiny scratches. Long may the luck continue. My only wish still is for the whole thing to be over and done with so that I can get a job and live a quiet life with M and the babe at home. I don't think I even want to roam anymore except perhaps in a very quiet way for short times. I have had all the sensations and excitement I want in my life already and I expect I shall get a few yet before the war ends. When a man has suffered the acutest fear and seen men stricken dead beside him, his chief hope is for a quiet life and an unpunctured hide. A jolly little place in the country with some pigs and a nice bit of fishing not too far away. That is what I want, though I don't suppose I shall realise the wish until I have worked a bit and made some money. It would be something though to have a quiet holiday in the country.
During September the 22nd MGC billeted in the area around Ypres. The diary records that they underwent significant training including a "Brigade Field Day". They were practicing a technique called battalion "leap frogging" which allowed the field guns to move up in close support of advancing troops as they advanced beyond the range of the initial gun positions. This was the technique employed during the advance at Ypres. On 29th September the 22nd MGC relieved the 14th Australian MGC at Dickenbusch. Gordon's section took over the area around Glencourse Wood. This particular advance was part of the Battle of Polygon Wood (26 September to 3 October). During the battle the German's made extensive use of the deadly mustard gas. The records show that on 2nd October, 1917 Lt A.G. Wills and 14 other men were gassed at Glencourse Wood and admitted to hospital before being repatriated to England. Perhaps Gordon counted himself lucky. In 1917, there was only one way to get back home alive and that was either wounded or gassed.
The 22nd MGC went on to participate in the attack on Passchendaele which he described as a "proper massacre". Only one officer from the 22nd MGC survived Passchendale and soon after this the Company was moved to Italy and Gordon lost touch with his comrades that he had cherished for 13 months on the Front.
Gordon was awarded the Military Cross in December 1917. He was never told what specific action was being recognised with the decoration. He saw out the rest of the war at Grantham where he attended a staff course and ended up as a Staff Captain Instructor. Under the Cambridgeshire Regimental Awards you will find his name:
Lt A G Wills Birmingham. 2/1st Cambs Rgt, seconded 118th Brigade MGC. Lt, awarded Military Cross, late 1917.
1st World War Battles in which Gordon was involved as part of 22nd MGC
Delville Wood 15th July to 3rd September 1916
Beaumont Hamel 13th November to 18th November 1916
Serre 17th February to 28th February 1917
German retreat to Hindenburg Line 14th March to 5th April 1917
Arras 9th April to 17th May 1917
Bullecourt 3rd May to 17th May 1917
Hindenberg Line 20th May to 16th June 1917
Polygon Wood 26th September to 3rd October 1917
Broodseinde 4th October 1917